Our Certificate of Authenticity ensures you have the best built RPD available
Every order that leaves an authorized 3DRPD® center includes a plasticized Certificate of Authenticity.
This card, exclusive to our company, bears a unique bar code that links each individual framework to its file in the event it requires replacement under our 5-year warranty.
Patients will know their RPD is the genuine article, built by the company that pioneered laser-sintered RPDs and dentists can confidently assure their patients that they are fitted with the most comfortable and trouble-free RPD available.
Laser-sintered RPDs from 3DRPD®: accept no substitutes!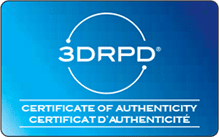 WARRANTY
---
5-YEAR WARRANTY
Our unmatched alloy properties powered by the latest computer aided design technology, means 3DRPD® can offer the best RPD framework available.